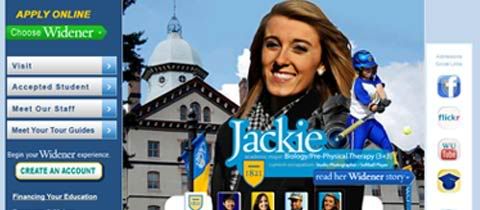 Prospective students are using a college's website to determine if the school is a place they want to attend before ever stepping foot on the campus or talking with a college representative. From Student recruiting to alumni relations, colleges and universities are under pressure to deliver an updated web experience that serves these divergent needs.
The web has moved rapidly from a "static brochure" to a core component of an overall school's mission and business strategy. Since 2009 I have focused a concentration in on how educational institutions integrate their web strategy into their overall business goals to position themselves to drive real outcomes.
Examples of Production in the Eduction space : (click on any thumbnail for detailed view)
---
Technology and the Changing Organizational Ecology of Instruction
With more advances in technology days of traditional university system are numbered.
With advances in device technologies such as near-vision interfaces (and the like for handicaps to accelerate accessibility to learning materials), video mail (because statistics show attention spans retain more when you can follow a video than reading material, trying to sort it out), along with harsh enforced compliance like ADA and many more have all helped flattened the equal opportunity and equal outcome margins. Certainly no matter your angle at these and other paradigms, technology has not only accelerated instruction has has revolutionized the ecology itself for those who embrace it.
ACC has recognized this fast moving trend and shares in its vision.
Technology has been a major catalyst for changes in the division of labor and directly related to the blurring of distinctions among public, private nonprofit and for-profit education and training organizations.
Hard working people will attend more of these dynamic training platforms; instead of returning to more of an entrance levels relearning out of old philosophical traditions. The post-secondary universe of certifications and demand for such skilled workers has continued to increase worldwide.
Some positives of online e-learning:
flexible work hour adjustable routine
flexible exam date can sit i exam and month..exam keep rolling…
same way banking changed liek when ACC worked with ING-Direct with IT next education will change with IT..
It will save huge IT budgets for Government.
Now we donot have so many empty seats in classrooms just as there aRE LESSER bank branches in every town; as it add to real estate fixed as well variable cost of maintenance.
(Just look at the 37 inner-city schools which are jeopardized today in Philadelphia
how do we embrace the child and empower their potential to learn in such a heated environment?)
we are going to see new genre of devices furthering enriched communication and recorder communication more flexible…
Embracing new techologies will accelerate people's adeptability across the globe will all rank higher on each subject marks at end of semester..
we are becoming a smarter planet ;P
Niche online coursewares also give good talent to local industry and country intrests.
The drivers of influence changing the edu vertical:

1. Career Cycle have shrunk: from 1 career per life to may be 3 careers now. So if we take average working life 30 yrs of a person. then every 10 yrs he/she is bound for change due to shrinking career cycles.

Why change ? career cycle have shrunk. burdened by the fact that technological paradigms now occur every 10 yrs that whatever u read and experienced 10 yrs back changes. This does not happen so-much-so with people who keep re-skill themselves every year or 10% people who continue to do whatever they are doing but with 90% career change do happen ( like moving into management, moving into some other domain etc).

2. Full-time career-centric professionals also have very less time and flexibility to attend lectures or do research. With advancement in technology lectures can be recorded and played multi-0casted by many students at any time 24/7. Students can do online labs, and can participate in case study discussion over tweets while taking 20 mins break from job. He/She no longer are tied to a classroom seat they do not need to be physically present to have presence during a teachable moment.

3. Earlier competition was placement tests and programs like Leave No Child behind ..but future competition will be how u are ranked in any given course like financial accounting among all other students enrolled across america who are or event arent your classmates.
Definitely top 10 out of 5000 executive enrolled would be really good for company instead of looking a estimated capacity score. because Finance skills what company want and need some score anyways because its not skill requirement for company to grow. here also 10/5000 comes to 1 /500 ratio which shows student is really competitive.

4. Power of Differentiation: Because of the flexibility of fresh-frozen content, multiple subjects are like a smorgasbord where interested hungry minds can choose their own dynamic curriculum. Universities can give a "bucket of courses" to student to pick and choose and attend class. So let say choose from list of 200 niche programs just like ACC is currently developing for one of our premiere instruction Clients: Danger Close Survival (from personal protection, emergency response, IT Security, Business Disaster Recovery and so much more). for example A person interested in game programming management will choose (game programming, Artistic courses, Management, Economics, strategy, Electronics hardware platforms). Thus differentiate himself from rest market and adopt strategy of focus on what he want to do?

5 Economics for University : Often University starts a new course which people cannot understand the importance of What happens then is low enrollment in those courses and hence university drop those courses every year every country , every university in some for or other. But with learner spread over whole of America. 2 student from Delware, 2 from new York, 10 from San Francisco 10 from Boston ….list of 200 cities aggregates to 400 students.? university can easily run those courses without worry of enrollment and reach ,and also due to factors of (product , promotion, place and price).The case above explained factor of place.

6. Economics for nation: With budgets getting lower and cost of education higher and relevancy of education to job falling it makes sense for any country to adopt this model of reach. Even people inside jail can be taught online can get degrees inside jail thus reform themselves for better career.
Private nonprofit universities remain the central providers of instruction in general education, professional certification and vocational and technical training. The new educational requirements of a knowledge-centered, post-industrial economy have, however, expanded the demand for continuing education and retraining in technical and professional fields. … Recent advances in information technology have enabled mass delivery of education to cohorts of students not traditionally served by residential or commuter institutions, and the market for instruction has substantially grown.
…
New and hybrid organizations have seen dramatic growth.
ACC is working with Organizations like Danger Close Survival and making cases of influence with local universities in the Delaware valley toward the above visions… Will you join us in changing the future of education ?